Mazda Wreckers Melbourne
Mazda Wreckers Melbourne. Cash for used, old, scrap, junk, damaged cars, vans, trucks. Get up to $18,999 and free car removals. Your Local Mazda dismantlers & recyclers.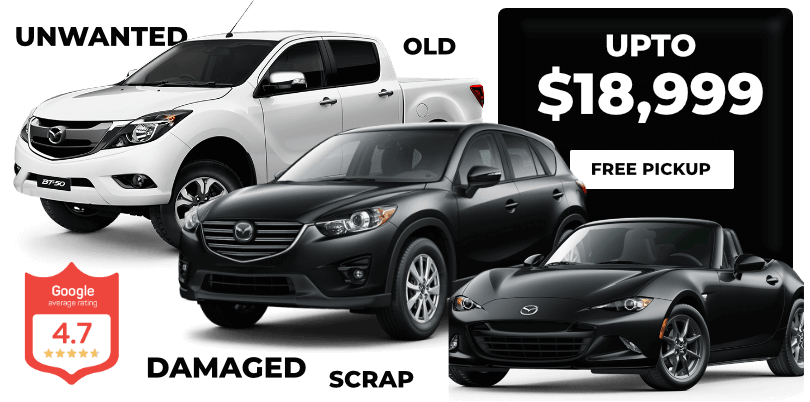 Fast Cash
Get cash paid on the spot with Mazda Wreckers Near you.
Same Day Removal
Get same day removal service by Mazda Wreckers.
Any Make or Model
Sell your Mazda Vehicle in any condition. No question Asked!
Mazda Car Wrecking Services near you
We pay instant money for wrecking old, rubbish, scrap, junk, harmed and undesirable Mazda vehicles in Melbourne. If you've got any Mazda car, van, truck, Ute or 4wd that you want to wreck, then pick your phone and give a call to Mazda Wreckers Melbourne. We wreck all Mazda cars, vans, Utes, trucks, 4wds and we pay cash in your hands on the same day. We offer a free evaluation for a wide range of Mazda vehicles in Melbourne. We acknowledge all makes and models of Mazda. We offer free services like removal, pick up and all transfer paperwork. Click here for secondhand Mazda spare parts.
How it works?
Our 3-step straightforward process to get rid of our unwanted Mazda Cars at Mazda Wreckers Melbourne.
1- Get Quote
Simply call us or fill online quotation form on our website.
2- Arrange Pickup
Choose your preferred vehicle pickup time and location.
3- Get it Towed!
Our tow trucks will pick up your vehicle instantly. $0 Towing Fee.
Sell Mazda Vehicle for Cash –Up to $18,999
We pay instant cash for any Mazda vehicle on the same day. How much? It totally depends on condition, age, and model of your vehicle. At Mazda Wreckers Melbourne we welcome any sort of car, van, truck or 4wd. You simply need to contact us through telephone 03 8658 1754 and we'll let you know the amount how much we can pay for your unwanted Mazda. You'll feel good when you'll know that you are getting the most money in market. Normally we pay cash up to $18,999 after evaluating any Mazda.
We are partners with companies like melbournecarwrecker.com.au who not only pay for wrecking your vehicle, but also collect free of charge from the spot.
Leading
Mazda Wreckers

near you

Get all Mazda Spare parts at your local with best price guarantee for any second-hand parts. Visiting a Mazda wrecking yard near you gives you many benefits and you will always find a genuine Mazda car parts. We are Australia's most trusted car wrecking dealership offering wide range of wrecking services in Victoria. Give us a call today to sell your unwanted car or used vehicle parts stock. Call Mazda Wreckers Melbourne for more details. It only takes 2 min to get an estimate of your unwanted Mazda cars, so don't wait call Mazda Wreckers Melbourne today!
Free Removal of Mazda Unwanted, Scrap or damaged Mazda Cars

.

There is no doubt that we offer hassle-free vehicle pick up service in all areas of Melbourne city. Doesn't matter where your car is broken down or parked from last some days. Our goal is to give you free hassle free pick up Our pickup and towing service is valuable to all those who want to trade in Mazda vehicle. Our team is very efficient and experienced in removing and paying cash for Mazda vehicles. With time, we gained a lot of experience and knowledge regarding every Mazda vehicle.

You just need to make up your mind when to remove your car. We are always ready to pick up your Mazda vehicle without any trouble. We always come on time to pick up your car. Our team is ready and waiting for your call for your Mazda vehicle removal and wrecking. Don't hesitate and make a space in your garage after removing your vehicle.
Mazda Vehicle Buyers – Sell Any model and year

on the spot.

We are highly rated and highly recommended Mazda vehicle buyers. Who buy each Mazda cars regardless of its mechanical and technical problems? It has been more than 10 years now that we are dealing with all sorts of Mazda models. In this period, we removed every Mazda car, van, truck, and Ute from all Melbourne customers. At every time, we give a high price to make our customer. And that has made us the Melbourne's top Mazda wrecker and buyer. Mazda wreckers also offers best prices for quality auto parts and all other Mazda parts.

Our basic objective is to remove every scrap Mazda vehicle and save our environment. your location must be in Melbourne or near to Melbourne. Don't wait sell your unwanted Mazda cars or Utes and get paid on the spot for any model today. Call Mazda Wreckers Melbourne
Sell Any Make & Models – Get Instant Cash!
Choose your make and get instant quote for your scrap car wrecking.
Can't find your vehicle make? Don't worry we can still provide you a quote for any kind of vehicle, just give us a call.
Car Wreckers Melbourne
We pay instant cash amount for wrecking Mazda cars in Melbourne. We wreck all models of Mazda cars in Melbourne.
Protege
Astina
1200,121,1300,1500
2,3,6
323,626,808,929
Eunos 500, Eunos 800
RX-3, RX-4
Mazda Van Wreckers
If you've any Mazda van for wrecking, then call us. We'll pay you cash with free removal and paperwork.
Mazda 4wd Buyers
Get cash in hands for your Mazda 4wd in Melbourne or any Mazda parts and accessories for your Scrap Cars or genuine Mazda parts.
6
Bravo
BT-50
CX-3
CX-5
CX-7
CX-9
Mazda Tribute
Mazda Truck Wreckers
We pay heavy cash for all Mazda trucks and buses in Melbourne. We wreck all commercial Mazda cars in Melbourne in any condition.
1992
2001E
Mazda T4000
T4100
T4100 Cab Chassis
T4600
Titan